11-18-2016
"These things we write that our joy and your joy may be complete." 1 John 1:4
Welcome Dear Reader,
You are a notable blessing from God in my life. Have you ever thought of yourself that way? You are.
You're an important part of what I do. No readers equals no writer.
I thank God he's given me a larger share of readers then I deserve. That's grace--getting what you don't deserve. God's grace.
My desire is to serve you through my God-given ability. The word ministry means to serve. That puts a smile on my face.
Before I leave this thread of thought: let me say this, "A big thank you to all who have reached out to me." Letting me know that my ministry has impacted your life. An email, a heart-felt review is like a standing ovation at the end of a concert. Yeah, I surely don't deserve it. More grace. Isn't God good!
O.K. about me. So who is this Rick Leland guy?
Here we go:
I got saved 20 years ago. Really saved. No turning back ever saved. My dear Mom prayed me into the Kingdom. She was somewhat of a writer herself.
Not long after my Jesus-journey commenced, I heard God's still, small voice telling me I was to be a writer. I was more than surprised since I had never had a hint of such an aspiration. Especially since in school English and such were my most challenging subjects and ever-faithful Mom's homework assistance rescued me too many times to count.
Still I heeded the call and then pursued training through Christian Writers Guild. Before completing the course work, I was writing a column for my local newspaper. Entitled: Pastor's Profile. God opened up an amazing opportunity and I even got paid for doing it.
Next, I launched another newspaper column called Inspiration Point, whose reach extended to well over a 100 newspapers in nearly every state.
And then came book writing:
Living the God Imprinted life: A devotional. I'm offering this eBook free to those who sign up for my occasional email newsletter. So please sign up. Your going to really like this book. And it's free!
The Jesus at Walmart Trilogy: These books have so resonated with people. I'm humbled by the kind words people have said about these books. Jesus is absolutely my bread of life. Always and forever. But thank you dear readers for your kind words, they are food for a writer's soul.
An Amish Awakening: This is a true story. An amazing one. Please: just buy this book. You won't be disappointed. It's less than three bucks on Amazon. If I went shopping a Walmart, what would be the coolest thing I could get for three dollars. Oh, as a side note: my wife Nancy (my amazing wife) just got a job at Walmart here in South Haven, Michigan.
When I'm not writing, I can often be found building things. And when I'm not doing that, spending time with my grandchildren and playing my mandolin are two activities that give me great pleasure.
And sometimes I get to do both at the same time. When I'm playing in a band I call the Sammy Schrock Band (named after my great grandfather). The band is comprised of my granddaughter Magaly, Nancy-my wife, and myself. We're rather entry level, playing mainly original worship songs. But do have a nice version of No Longer Slaves (I Am a Child of God) in our rotation.
I attend to my fitness by running on the beach or trails and participating in an occasional mud run.
While all of these activities are eclipsed by going for a walk on the shores of Lake Michigan with my wife of nearly 35 years-Nancy. God has blessed us to be able to live five-blocks from the beach in South Haven, Michigan.
Thank you again dear reader for stopping by.
So this is the way I see it. Or as Malachi Marble from Jesus at Walmart would say, "Here's the deal."....we're in this together. I look forward to hearing from you.
Fix your eyes on Jesus,
Rick Leland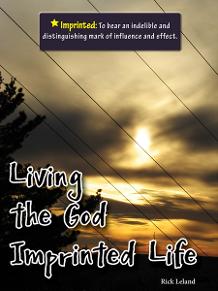 A Tribute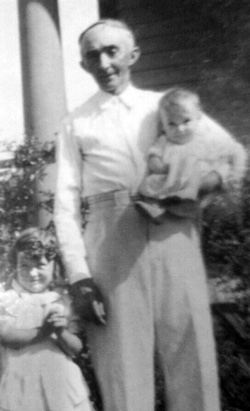 Sammy Schrock
Circa 1925
This is a picture of my great grandfather Sammy Schrock. I never met him. He past on to his reward many years before I was born.
I don't know a great deal about him. But enough to have great admiration for him.
Several years ago I visited a hilltop cemetery adjacent to a small country church. There I located his gravestone. When my eyes traced his stone-engraved name, tears came to my eyes. I felt a sense of awe as I reflected on the profound influence Sammy had had on my life. Even though we had never met.
Sammy had adopted my grandmother, removing her from a very detrimental situation.
Sammy was a fine Christian man. A pillar in his church. So as my grandma grew up, she became a follower of Jesus.
So through Sammy's love and willingness to bring a baby, my grandma, into his household; our family was introduced to the Christian faith.
While the results are mixed through the generations, there are many fully devoted followers of Jesus Christ in the extended family. All have been exposed to the Good News, with most partaking at some level.
For me, my rich and satisfying life in Jesus Christ is a fruit of my grandfather Sammy Schrock's life.
May my life, may your life, have like results.